Description
|
Register Now
|
Sponsor a Participant
|
Login
MISSION PAWSIBLE Presented by PetSmart
Description
On Saturday June 22nd , the Oakville and Milton Humane Society will lock up 20 adorable humans in a kennel at Oakville Place and they will be 'put up for adoption'!
Why are these humans spending their Saturday in a kennel? Each of them understands the importance of the work being done by the Oakville & Milton Humane Society. Each one knows that whether an animal has been abandoned, surrendered, neglected or abused, every animal that comes to us deserves top-notch care and a family that will love them.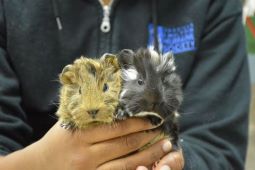 All of the humans in the kennels will be working to raise their adoption fee in support of Mission Pawsible presented by PetSmart. Each hour, our 'animals' will be given time out of their kennel for enrichment with activities and games.

YOUR MISSION: Join us at Centre Court, in Oakville Place on June 22 to help raise funds to support the animals that need you.
Reserve your spot in the kennel today!  Registration is free.

102.9 KLite FM will be onsite with us broadcasting live, which means opportunities to showcase your business.  Please contact us at events@omhs.ca for sponsorship opportunties.
You can also support one of our adorable humans in raising money for the Shelter!
Already a participant? Login to your Participant Centre. 
Looking for fundraising ideas?  We have a few for you! Fundraising tips 
A big thank you to our Sponsors
A special thank you for support from:
Details
Date & Time:
Jun 22, 2019 12:00 PM to
Jun 22, 2019 05:00 PM
[America/Toronto UTC -5]
Registration Closes:
Jun 19, 2019 05:00 PM

Coordinator:

Somer Deschambault-Page
events@omhs.ca
905-845-1551