Our mission: to promote and encourage inclusive paddle sport and outdoor activities for all abilities.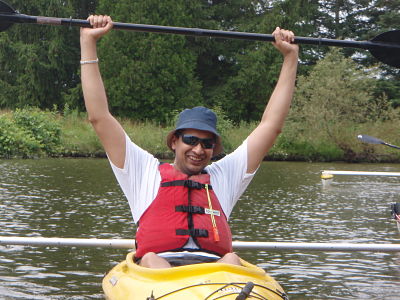 Hands Across The Water  
the paddling challenge for all abilities.  
July 20th, 2019 (raindate 21st)
9 am - 2 pm
Hands Across The Water brings together paddlers, their families and friends, creating an inclusive community.  As a non profit organization, AIM heavily relies on the support of generous sponsors, grants and donations. Together we plan to raise $25,000 to support adaptive paddling programmes for people with disabilities and purchase a new, certified dock lift for Alliston. 
Here's what you can do:
Paddle in Earl Rowe Provincial Park, Alliston
Sponsor one of our featured paddlers
Form a team 
Paddle wherever you are!
Your participation would make a huge difference to Abilities In Motion.  We rely on donations, grants and Hands Across The Water to keep our programmes running. 
Pledges of $10 or more will receive a charitable tax receipt. 
Charitable tax number 813487428RR0001