Description
|
Register Now
|
Sponsor a Participant
|
Login
Micheltorena March-a-Thon 2018
Description
Join us for the March-a-Thon and help raise funds for Micheltorena Elementary School!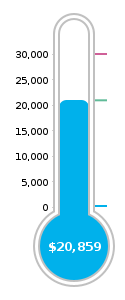 WHAT?
The 4th Annual Micheltorena March-a-Thon is a fundraiser and a celebration of physical fitness. All students will walk a course around the perimeter of the school and will be awarded prizes for participation and distance. We will also hold raffles with great prizes!
WHY?
To raise money for the school! The March-a-Thon is one of our school's largest fundraisers and helps FOM (Friends of Micheltorena) pay for things like classroom materials, school supplies, teacher's aides, campus beautification and our PE program. The goal is $30,000. This might seem like a lot but if every student can raise $100 it is achievable. All pledges and donations are kept confidential and every dollar counts. Once you have created a page for your child, you can send their personal page link to family and friends and ask them to donate. 
Would you like to sponsor a friend or family member? Click "Sponsor a Participant" above to find the person and/or team you would like to support.
All Micheltorena students are encouraged to participate. 100% participation is the goal!
Details
Date & Time:
Mar 17, 2018 09:00 AM to
Mar 17, 2018 12:00 PM
[America/Los_Angeles UTC -8]
Location:
Micheltorena Elementary School
1511 Micheltorena St.
Los Angeles CA
USA
90026
Registration Closes:
Mar 17, 2018 09:00 AM

Coordinator:

Tina Christopulos
fundraising@micheltorena.org
(213) 248-0259
Registration
Price
USD
Register to participate & fundraise





$0.00

Registration is now closed.

To sponsor a participant click here.