Description
|
Register Now
|
Sponsor a Participant
|
Login
2021 East Coast Trail "Trail Raiser On the Go", a partnership with CMHA-NL
Description
The East Coast Trail Association & Canadian Mental Health Association of Newfoundland and Labrador present the
2021 Trail Raiser On the Go
We are bringing back the Trail Raiser On the Go, in partnership with the Canadian Mental Health Association in NL for its second year, this time with a fresh look and feel! Studies confirm there is a positive link between intentional movement, mental health and spending time outdoors in green spaces. This year we want to celebrate our beautiful trail and promote mental wellness as the ongoing pandemic challenges us both mentally and physically.
Here is your challenge: hike and fundraise! It's that simple. This year, we have bi-weekly challenges encouraging you to explore different trails each session. 
The Trail Raiser On the Go will run from May 24th to September 6, broken down into two-week segments. Each segment will give participants the option of their hiking adventure, choosing an easy, moderate to difficult or strenuous path; or if you're up for it - all three!

Each challenge you complete enters you into a draw prize at the end of the fundraiser. PLUS chances to win prizes in sessions along the way. Additional events throughout the Trail Raiser On the Go will be announced throughout, but trust us, you do NOT want to miss out! 
Let's all work together towards a fundraising goal of $100,000 to support the maintenance of the East Coast Trail and help the Canadian Mental Health Association-NL to provide resources and services across the province. 
Two of your favourite charities have joined forces, during a pandemic, to showcase the importance of staying active to promote good mental and physical health, while at the same time raising funds and awareness for two worthy charitable organizations.  Donations will be shared equally between both charities (50% to ECTA; 50% to CMHA-NL). 
Your physical journey
Your fundraising journey
Our collective goal is to raise $100,000 for ECTA and CMHA-NL. Reach out to friends and family via email and social media, to ask them to support your mission with a donation.  Donations can be made online (credit card), or offline* (cash or cheque).
This event is open to everyone - individuals, businesses and communities. Join us in this journey and let's work together for these worthy charities. This event is your opportunity to make a positive impact: Get fit, physically and mentally, raise funds for a good cause and win prizes.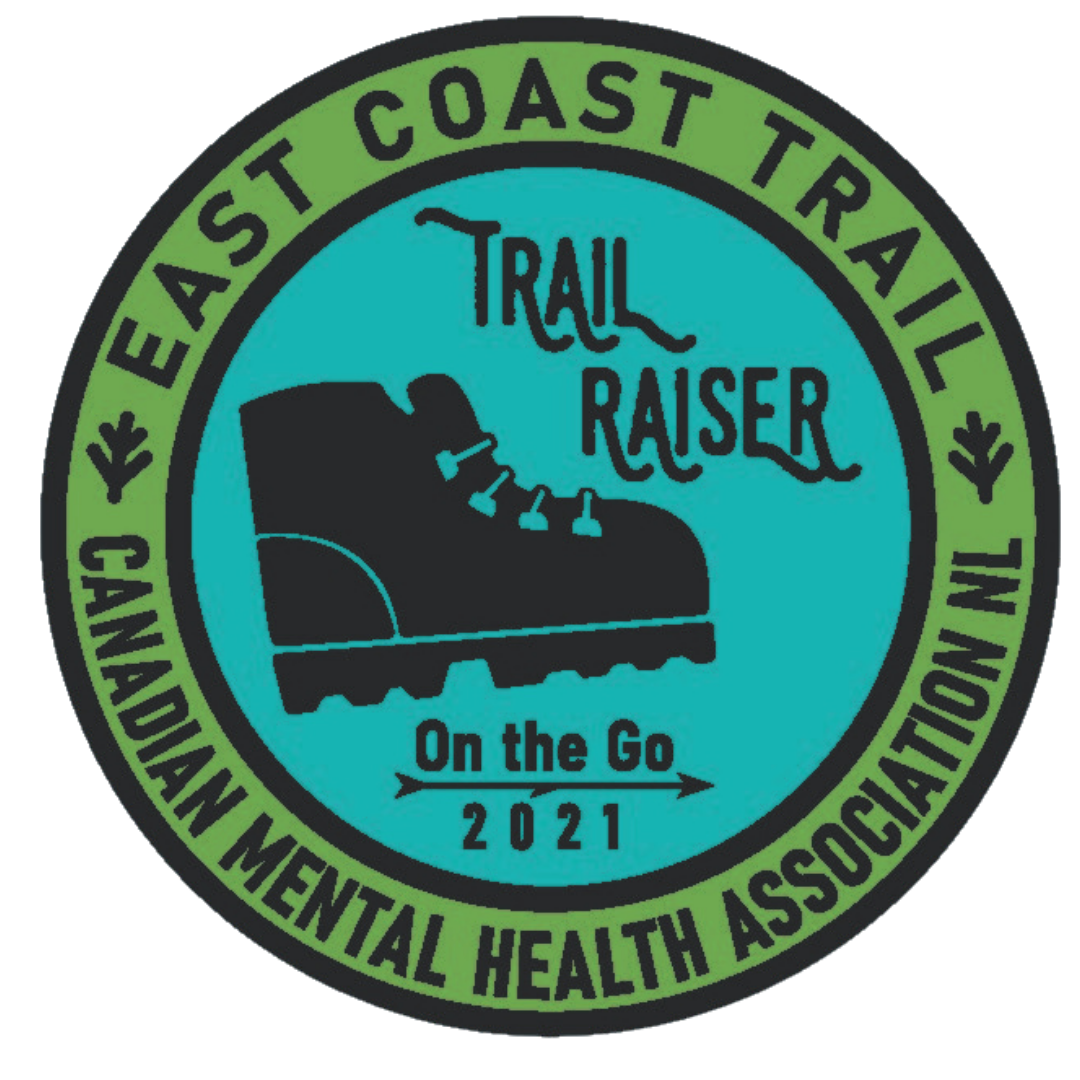 PLUS! The first 250 people who register will receive a limited edition  Trail Raiser On the Go 2021 patch! 
Note: the fair market value of the patch will be deducted on your registration tax receipt, this is in line with CRA Regulations.
Photo Challenge
During Session #1 & #7 indicated with a camera above, there will be a photo contest with winners receiving prizes from: 
Submit your photo when you complete your session review, and let us know which paths you completed! Use #ECTOnTheGo21 + @eastcoasttrail + @cmhanl. Don't use Instagram? Submit your photos when you report your paths. More info on this in the bi-weekly newsletters.
Session Bonus Events FREE for all Trail Raiser participants!
Session #2: Meditation Mug Up with Lindsay Oates at Father Troy's Trailhead in Flatrock. 
You will begin with a nature hike where Lindsay offers gentle encouragement to tune into your senses. This is a space where you get to turn off the thinking mind, the to-do lists and all the mental busyness. You take a bath in Nature. Next, the group will find a seat in a circle where we begin the guided Self Chakra Connection Meditation - a deep and powerful session allowing you to sink fully into SELF. Following the meditation, you are welcomed to a cup of local coffee (brewed and ready to pour) or a selection of tea to pair with your NL baked goods and toutons to enjoy.

Lindsay is a Registered Natural Therapist of Canada, Certified Foot & Ear Reflexologist, Reiki Master, Level 2 Healing Touch practitioner, Indian Head Masseuse and Certified Kids Yoga and Mindfulness Teacher.   
Fundraising Prizes
The more you raise, the more prizes you are eligible for! All registered participants are eligible for the prizes available.  Each participant who raises funds to hike is considered to be an individual fundraiser. An individual fundraiser can win an individual prize and be a member of a winning team. Plus, all event participants are eligible for the draw prizes. Note: ECTA and CMHA-NL staff and board members are not eligible for prices.
Prize Categories:
Individual - top 3 individual fundraisers

Team - top 3 team fundraisers

Draw - one entry for every $50 fundraised (number of draw prizes will be based on donations & sponsorships) 
Sponsorship Opportunities
Do you work for an organization that may be interested in sponsoring our event? Check out our sponsorship package here.
What to Know Prior to Registering   
$40 registration fee to participate in the event: You pay the fee during the registration process. 

$250 individual fundraising target: We are challenging all participants to raise a minimum of $250 to help protect and maintain the ECT and support mental health initiatives in our province. Help us reach our fundraising goal of $100,000 for this event!

Register as an individual or start/join a team. Teams can have up to 10 people.

Personal Information page: When registering, at the "Personal Information" page, you will be asked to enter an email address and a password. The email address and password you provide will be your login username and password for your fundraising account. You can login to your account at any time.

You can also collect cash & cheque pledges. By using the pledge form in your personal fundraising page, collect the full name, mailing address and email address of any cash or cheque donors to make sure they receive a tax receipt.

Event Close:

 At the end of the event we will hold a virtual event closing the challenge and announcing totals and prizes. This event will be held on Thursday, September 16.
 *To arrange contactless drop-off for cash donations, please  email onthego@eastcoasttrail.com or call 709-738-4453
COVID-19 Reminders
Bring hand sanitizer and a mask with you when you head out on the trail

Allow for 2 metres of space between you and other hikers when passing on the trail

Avoid touching your face, especially with unwashed hands.

When coughing or sneezing, cover your mouth and nose with your arm or tissues to reduce the spread of germs. 

Clean and disinfect frequently touched objects and surfaces, such as toys, electronic devices and doorknobs.

Stay home if you are sick to avoid spreading illness to other
Source: Government of Newfoundland and Labrador
Important items to know before heading out for a hike
Follow these links for more information 
Hiker Waiver

 —

E-signed during your registration process; if you are under 19 years of age, please have a parent or legal guardian read and e-sign the waiver when you register.

Preparing to Hike -

New to hiking? Check out some useful tips to get you started.
Donations and pledges $20 and over are eligible for a tax receipt. Remember to collect the full name, address and email address so donors can receive a tax receipt. If paying by credit card, the name on the card is who the tax receipt will be addressed to.
Details
Date & Time:
May 24, 2021 12:01 AM to
Sep 06, 2021 11:59 PM
[America/St_Johns UTC -3]
Registration Closes:
Aug 30, 2021 11:59 PM

Coordinator:

ECTA & CMHA-NL
onthego@eastcoasttrail.com
709-738-4453
Registration Options
Price
CAD
General Admission





$40.00

Limited Income Tickets (email for access)





$21.00