Admin
The Fall Roost Benefit 2019 Tickets and Tables
Description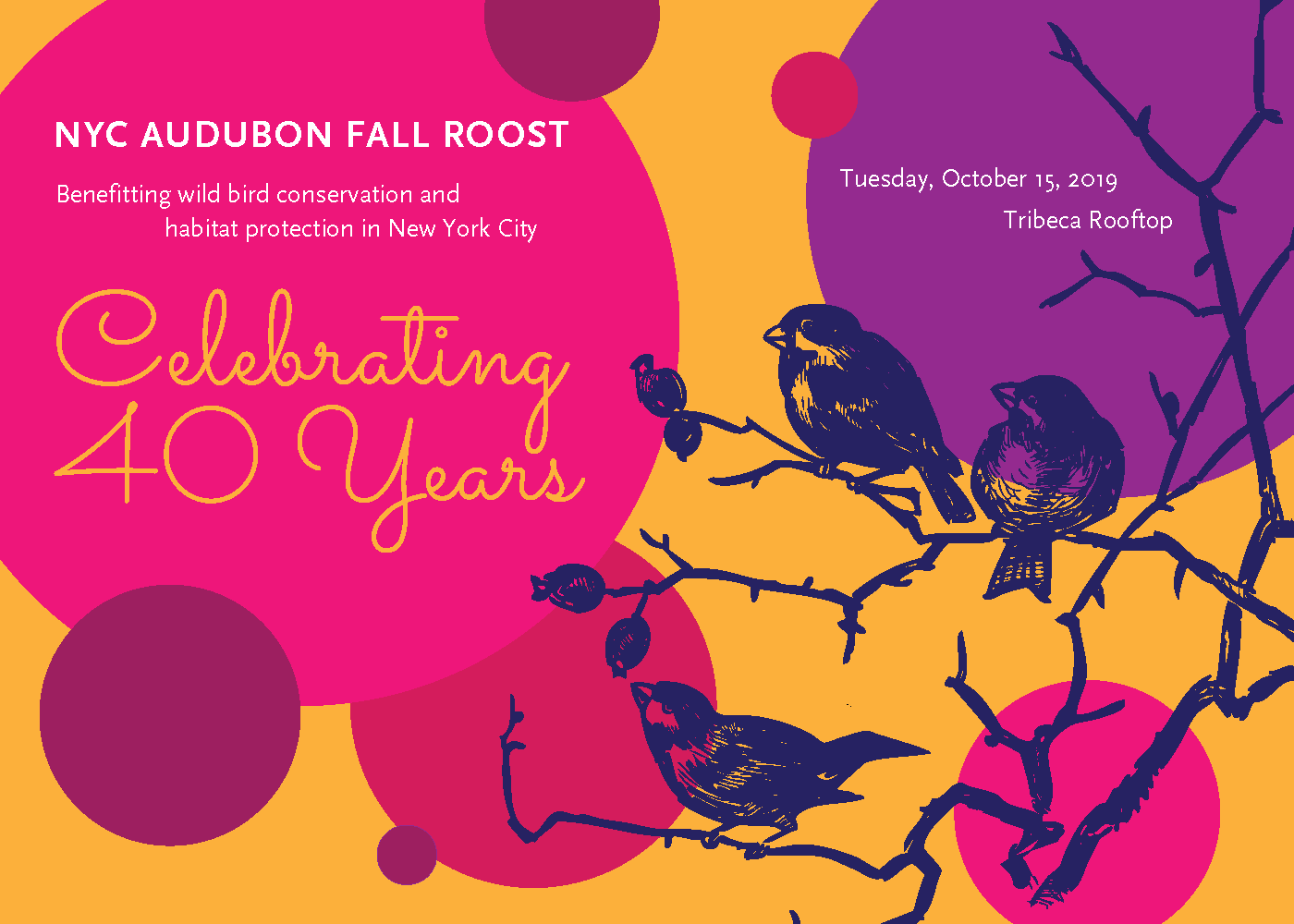 THE FIFTEENTH ANNUAL NYC AUDUBON
FALL ROOST
Tuesday, October 15, 2019
Tribeca Rooftop
2 Desbrosses Street

The 2019 Fall Roost, launching New York City Audubon's 40th Anniversary celebration, is set for Tuesday, October 15, returning to the beautiful Tribeca Rooftop. The evening starts at 6:30pm with cocktails and a silent auction, followed by a seated dinner.
Marking our milestone birthday, we will honor a select group who shaped our history and recognize those who are carrying the torch forward. It will be a fun-filled evening among bird lovers and supporters of bird conservation, with another fabulous pop-up store, raffle, delicious food and drink, and a lively program. Our silent auction will be bigger and better than ever, featuring outings with your favorite guides, behind-the-scenes access at museums, original artwork, and new offerings such as a stay at The Carlyle hotel's new Tony Chi-designed suite, Metropolitan Opera tickets, and dinner for two plus wine pairings at the CORE: club.
Please consider joining our Host Committee by taking a table or making a contribution of $2,000 that includes a pair of Painted Bunting Host Committee tickets. Don't delay: our deadline is Monday, August 12, for inclusion on the public invitation.
Our success at protecting wild birds and their habitat in New York City depends on your support of this joyful event, as all proceeds help to underwrite our work. We look forward to seeing you on October 15. 
Silent Auction and Reception - 6:30pm
Dinner and Program to Follow  
CO-CHAIRS
Karen Benfield | Marcia T. Fowle | Catherine Schragis Heller | Tatiana Kaletsch | Jenny Maritz
Proceeds from the Fall Roost support New York City Audubon's efforts to protect wild birds and their habitats in the five boroughs through scientific research, community engagement, advocacy, and boots-on-the-ground restoration. Learn about our key initiatives such as Project Safe Flight, Harbor Herons, and Tidal Connections. Keep up to date on local conservation issues and legislation that needs your support by signing up for our Avian Advocates monthly email list.
Your support for the Fall Roost encourages others to take part in this celebration. Contributions of $2,000 or more by Monday, August 12, will be listed on the invitation. Please consider purchasing a table and encouraging friends to attend.
We look forward to seeing you at New York City Audubon's 2019 Fall Roost! For further information, contact Kellye Rosenheim at 646-502-9611 or krosenheim@nycaudubon.org.
---

TICKETS & TABLES 

$40,000 Anniversary American Kestrel Table
Prominent Seating and Listing in the Program
$20,000 Red-tailed Hawk Table
Premium Seating and Listing in the Program

$10,000 Great Blue Heron Table
Favored Seating and Listing in the Program

$5,000 American Oystercatcher Table
Choice Seating and Listing in the Program
$2,000 Host Committee Donation (Includes Two Painted Bunting Host Tickets) 
Special Seating and Listing in the Program
$1,000 Piping Plover Ticket 
Special Seating  
$400 Individual Ticket
Reserved Seating
CONTRIBUTIONS
I Cannot Attend but Would Like To Make a Contribution to NYC Audubon
Each ticket is tax-deductible less $138.00.
Contributions to New York City Audubon are tax deductible within the limits prescribed by law. A copy of the latest Annual Financial Report may be obtained online at www.nycaudubon.org or www.guidestar.org or upon request from the New York State Office of the Attorney General, Charities Bureau, 28 Liberty Street, 15th Floor, NY, NY 10005 or NYC Audubon, 71 West 23rd Street, Suite 1523, NY, NY 10010.
Details
Date & Time:
Oct 15, 2019 06:30 PM to
Oct 15, 2019 09:30 PM
[America/New_York UTC -5]


Add to my Calendar
Location:
Tribeca Rooftop
2 Desbrosses Street
New York NY
United States
10013


Get Driving Directions
Registration Closes:
Oct 14, 2019 05:00 PM

Event Coordinator:

Kellye Rosenheim
krosenheim@nycaudubon.org
646-502-9611