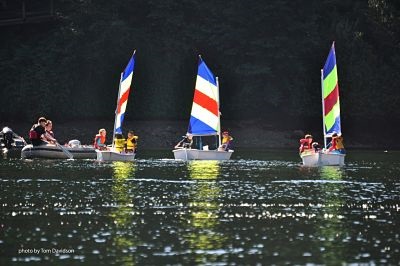 OPTI 2
Ages 8-11
9am - 4pm  Mon - Fri (1 week)
 COMPLETION OF OPTI 1 IS REQUIRED BEFORE TAKING
OPTI 2
Taught on our fleet of Opti dinghies

Builds on basic skills learned in Opti 1, and focuses on sailing efficiency in a safe and fun environment   
Based on CANSail 1 & 2 curricula, adjusted for younger sailors through progressive training levels
Students continue to build on the basics learned in Opti 1 while learning additional skills such as downwind sailing techniques
Instruction is safety-based as prescribed by the CANSail program
Cost: $345 ($283 for August 2 -5)
Note:  Sailors must have their own life jacket and wear   closed-toe shoes (non-skid such as runners, water shoes)
Daily Requirements:  lunch, water, sunscreen, swimsuit, change of clothes for sunny or wet weather, towel.  Face mask may be required for indoor rainy day activities.   
If your child has completed Opti 2 and is 9 or 10 years, they should retake Opti 2 due to the age requirement for CANSail 1 which is the next level of sailing. This provides the time for the sailor to gain more proficiency in sailing basics and builds more confidence on the water. This also prepares the sailor for the higher level CANSail courses. 
Note: New Cancellation Policy and Photo Release Waiver, view at  www.deepcoveyc.com
Financial Assistance Available: Through our bursary program – see website for details and application form.
CANSail program details: please visit www.sailing.ca