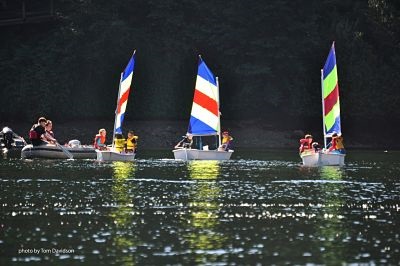 CANSail 4
Ages 11 - 16
9am - 4pm  Mon- Fri (2 week course)
  COMPLETION OF CANSail 3 IS REQUIRED BEFORE TAKING CANSail 4 
Continuing with the skills learned from CANSail 3, sailors will further their knowledge and ability on the water in a welcoming team oriented environment.
Among the many new skills introduced in this course, sailors wil learn advanced racing techniques and technical rigging strategies which will prepare them for any situation they might face.   
Boat Type: Fevas, Zests, Pirates, 420s
Cost: $535 ($481 for Aug 2-12)
Note:  Sailors must have their own life jacket and wear   closed-toe shoes (non-skid such as runners, water shoes)
Daily Requirements:  lunch, water, sunscreen, swimsuit, change of clothes for sunny or wet weather, towel.  Face mask may be required for indoor rainy day activities. 
Financial Assistance Available: Through our bursary program - see website for details and  application form.
CANSail program details: please visit www.sailing.ca
Note: New Cancellation Policy and Photo Release Waiver, view at www.deepcoveyc.com