Description
|
Register Now
|
Sponsor a Participant
|
Login
Trek the Trails & Trestles Challenge
Description
Trek the Trails and Trestles Challenge
Join us in making an impact and celebrating Inclusion and Accessibility... We are launching our annual trek, the Trails & Trestles Challenge to celebrate National Accessibility Week (May 28th to June 3rd, 2023) 
Trek the Trails & Trestles Challenge continues from May through to September.
Hike, Bike, Trike, or utilize our Accessible Recreational Equipment!!!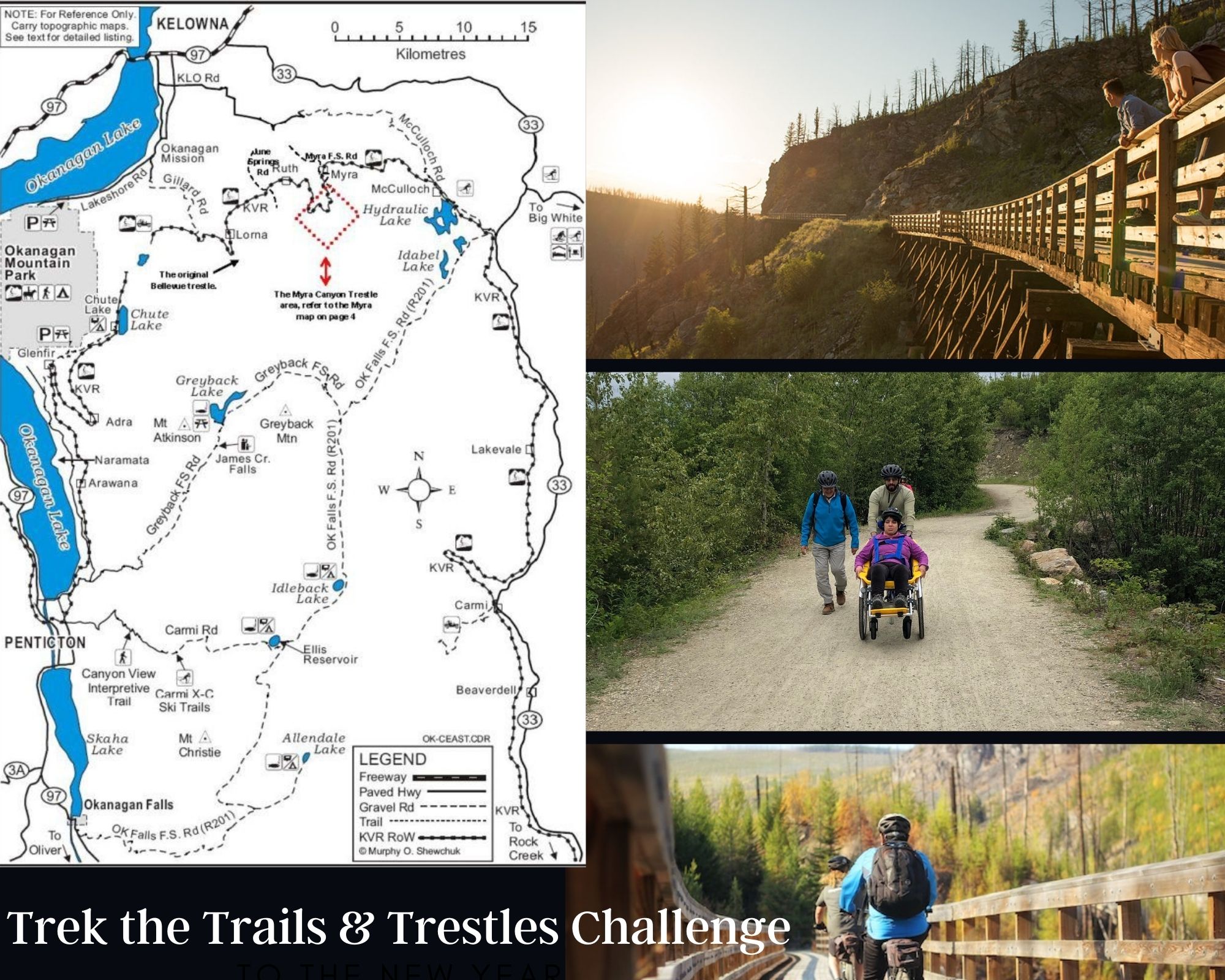 HOW THE CHALLENGE WORKS  - Challenge yourself to Trek the Trails & Trestles and experience the magic of the Kettle Valley Rail Trail. 
The concept is simple... You set yourself a personal target to Trek the Trails in any way you desire through to September and log your kilometres to achieve your goal throughout these months. 
For All Ages & Abilities, you can do it!!!  Your goal could be 25km, 250km, or more. There's no minimum. It's your challenge; Trek it your way.
All you need to do is log your kilometres from June to September via Strava, MapMyRide, your own personal GPS device, or manually. 
It's not required, but we would love it if you would share the experience with us and others and share some photos on our Facebook page.
 People In Motion - Facebook Page
 Please help us to Raise Funds to purchase additional Adaptive Recreational Equipment while you enjoy the Beautiful Kettle Valley Rail Trails. 
Sign up today for a chance to win:
Customized Wine Tour for up to 10 Family members and Friends (raise $300.00 or more to be entered into the draw)

Customized Tour of the Okanagan's Sights and Attractions for up to 10 Family members and Friends (raise $300.00 or more to be entered into the draw)

Raise $100.00 to be entered into Random Draws (of up to 10) for prizes for Participating, such as Gift Certificates & Sporting Goods
Use your own Bike/Equipment, or to book our Adaptive Recreational Equipment and Trek the Trails and Trestles, go to our reservation link Adaptive Recreational Equipment Reservation.
No problem if you don't have a bike; we have teamed up with Myra Canyon Bicycle Rental and Tours Inc. Myra Canyon Bicycle Rental & Tours Inc.
Details
Date & Time:
May 28, 2023 09:00 AM to
Oct 22, 2023 05:00 PM
[America/Vancouver UTC -8]

Add to my Calendar

Registration Closes:
Oct 01, 2023 05:00 PM

Coordinator:

Louise Abbott
peoplenmotion@gmail.com
2508613302