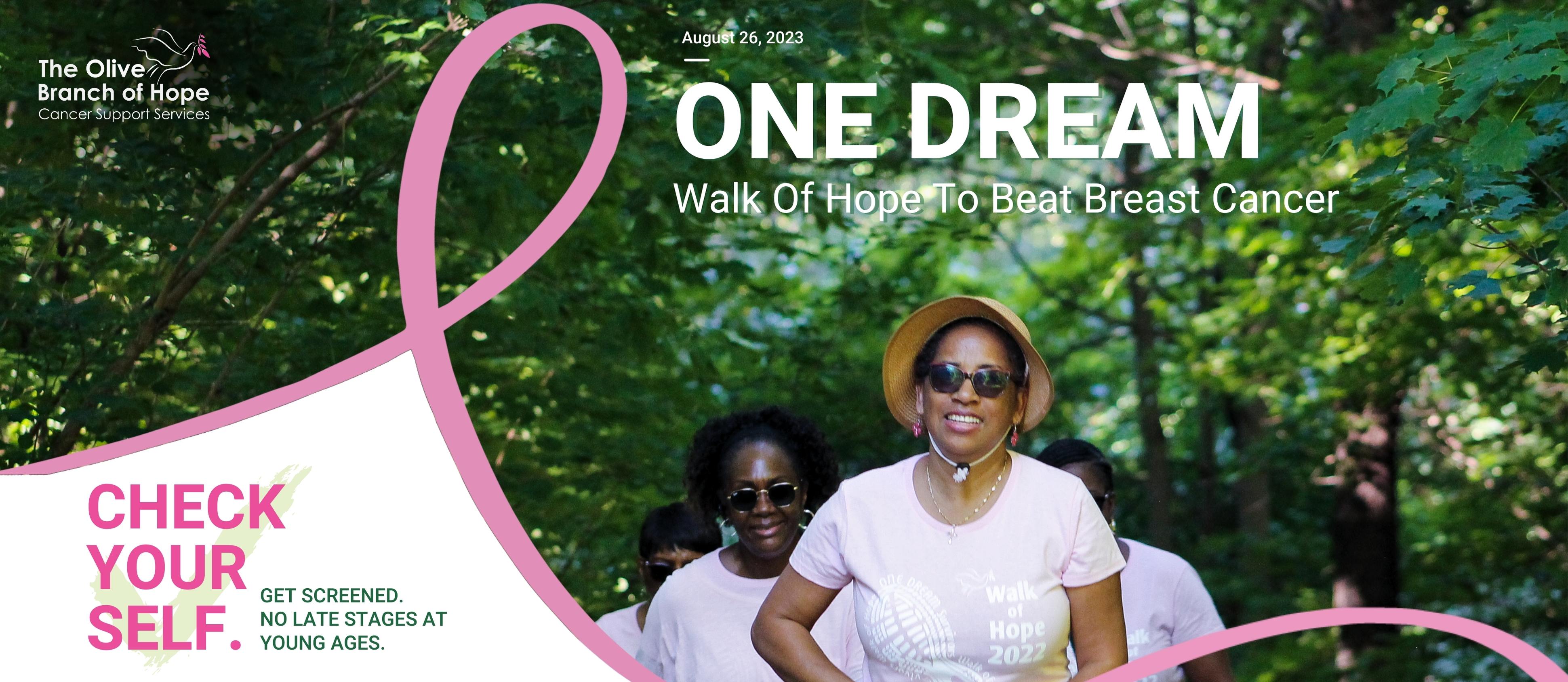 Description
|
Register Now
|
Sponsor a Participant
|
Login
2023 One Dream Walk of Hope Walkathon
Description
  

 

 

This one-day, in-person, 5km walk happens on Saturday, August 26, 2023. 

Walk Location: 4801 Dufferin Street (between Finch Ave W & Steeles Ave W), Toronto, ON

Check-In: Starts at 8am

Walk Time: Starts at 9am  

Complimentary Lunch in the park will be provided for all registered participants  

 

  Black women have a higher chance of developing breast cancer before the age of 40 than other nationalities.  At every age, Black women are more likely to die from breast cancer than any other race or ethnic group.

Over the years, an increasing number of young women (under 40) have been getting diagnosed with breast cancer at late stages and as a result the mortality rate among black women continues to be the highest.

We need your support to help stop this trend. No late stages at young ages.

This year we are walking in honour of Jodi-Ann who was taken from us too soon at the age of 36 on March 14, 2023

 

 

Let's walk together to promote increased screening for breast cancer, lowering the general age for mammograms from 50 to 40 years of age and be a support to the women diagnosed with breast cancer.

Your single step can help them overcome cancer. 

 

Sign up today with your team or as an individual to participate! 

Once  registered, you can login to your account to customize your Personal & Team donation pages, send emails and view the status of your Personal & Team fundraising efforts. 

All participants will receive a complimentary event T-shirt.   

---

HOW WE SUPPORT YOU  

Whether you are walking individually or as a team we are here to help.  

Your Personal Page  

Customize your personal page by telling your story and why you have chosen to walk or run. Adding personal touches like photos, videos or memories can make a big difference in your funds raised. Remember, we are all Connected by Our Why! 

Your Personal Fundraising Link  

Located on your personal page, your personal fundraising link is an easy way to share your goals with friends and family. You can share on all social networks and through email. Did you know that roughly 90% of all donations come from online support?

 

 

The Support Team  

Our volunteer support team is always ready to help you fundraise. Contact us if you need help. 

Email: events@theolivebranch.ca  

---

FAQ  

How do I register as a Corporate Group with multiple teams?  

To register your Corporate Group, please send an email to events@theolivebranch.ca with your contact information. Once your group is registered, your team leaders will be able to select your Company's name when creating their teams. 

How do I sponsor a friend or family member?   

Click "Sponsor a Participant" above to find the person and/or team you would like to support.

How do I donate onlne?

It's easy with our secure online credit card process. Click the "Donate" button at the top of this page and select the participant or team you want to donate to.

Choose a donation amount and follow the instructions. It's easy with our secure online credit card process. Click the "Donate" button at the top of this page and select the participant or team you want to donate to.

Choose a donation amount and follow the instructions. All donations over $20 will receive a tax receipt via email

How do you keep information (like my credit card number) safe?

We make every effort to protect your personal information. The software we use for registrations and donations on our website uses industry-standard SSL encryption techniques to make sure that your credit card information, passwords, and personal information travel securely over the Internet. Credit card information is never stored in our database or our software provider's database.

---

 

ABOUT THE OLIVE BRANCH OF HOPE BREAST CANCER SUPPORT SERVICES  

 

We've been here for 20+Years  

The Olive Branch of Hope (TOBOH) launched in 2001 and was founded by Leila Springer and Winsome Johnson, two breast cancer survivors.  

TOBOH largely assists women of African-Caribbean Heritage affected by cancer and other women of culturally diverse backgrounds. They also work in partnership with health agencies to design programs, develop and distribute health information and facilitate activities to support underserved cultural communities in Canada and the Caribbean.

 

Your Donations at Work Over The Years

Annual "Think Beyond Love Pink" Breast Health Educational Series (Toronto, Hamilton, Caribbean)

Free Mammogram Screening for Women in Barbados and Jamaica

TOBOH Kids Program - Provide gifts to children of breast cancer patients

"Every Breast Counts" National Breast Cancer Conference in partnership with Womens College Hospital (Toronto)

 

 

WE SUPPORT RESEARCH

Dr. Juliet Daniels – McMaster University

Dr. Juliet Daniels, born and raised in Barbados is a Professor and Cancer Biologist in the Department of Biology at McMaster University. 

At McMaster, Dr. Daniel's research team focuses on understanding how disruptions in cell-cell adhesion and signaling through transcription factors contributes to breast cancer initiation and progression.

Her team utilizes genetic, genomic, molecular and cell biology techniques to analyze TNBC tissues from populations of shared African ancestry (Caribbean and West Africa) to identify genetic risk factors that can be used as biomarkers to diagnose or develop therapies for TNBC patients worldwide. 

Dr Daniels discovered a new gene she termed 'Kaiso', that "regulates the expression of genes that control cell proliferation and adhesion." Because of this, the malfunction of Kaiso in human tumors including the breast has been shown to increase the spread and progression of that tumor.  

In one particular study conducted by Dr. Daniels and her team, it was discovered that women of African Ancestry possessed a higher level of nuclear Kaiso expression, in comparison to their caucasian counterparts.

This highlights that Afro-Caribbean and black women are genetically more predisposed to developing Triple-Negative Breast Cancer (TNBC), especially at a younger age, than women of other races.

 

 
Details
Date & Time:
Aug 26, 2023 08:00 AM to
Aug 26, 2023 03:00 PM
[America/Toronto UTC -5]

Add to my Calendar

Location:
G. Ross Lord Park
Area 1
4801 Dufferin Street
North York ON
Canada
M3H5T3

Get Driving Directions

Registration Closes:
Aug 24, 2023 06:00 PM

Coordinator:

D Springer
info@olivebranch.ca

Registration Options
Price
CAD
Registration





$50.00

I will collect donations but will NOT participate in the walk





$0.00